PRB Archive - Composite Roadster & Racer Sold 1999-2006
Great Buys as Second-hand cars if you can get one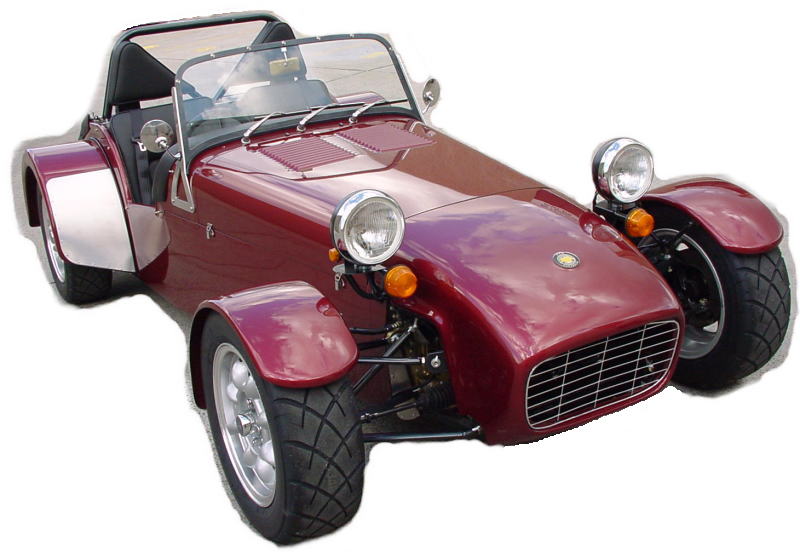 Have you even thought what a clubman would look like if you started afresh and took advantage of the latest materials, suspension designs and computer modelling. PRB Australia has done just this and produced what has been described as the worlds most advanced clubman.
The PRB composite features an exceptionally rigid composite monocoque chassis made from aluminium honeycomb composite matched to highly tunable independent front and rear suspension. Specially customised roadster and circuit racing configurations are available and can be further tailored with factory options to suit the most demanding drivers.

The PRB composite is built around an exceptionally rigid composite monocoque chassis made from aluminium honeycomb. A CAD designed front bulkhead is CNC milled from an alloy billet and is used to locate the front suspension, rocker arms and dampers. The monocoque chassis allows the cars movement to be controlled entirely by the suspension. This makes the car very precise to drive without any distracting chassis flex or scuttle shake. Drivers are able to feel even subtle changes to the suspension settings greatly reducing set-up and chassis tuning effort.
PRB's composite monocoque is built to withstand the rigours of circuit racing. The driver is set well back in the chassis and surrounded by an extremely strong passenger compartment. Any impacts from the typical knocks and bumps of racing are absorbed by the front or rear subframes with only simple component replacement required to return the car to the race track.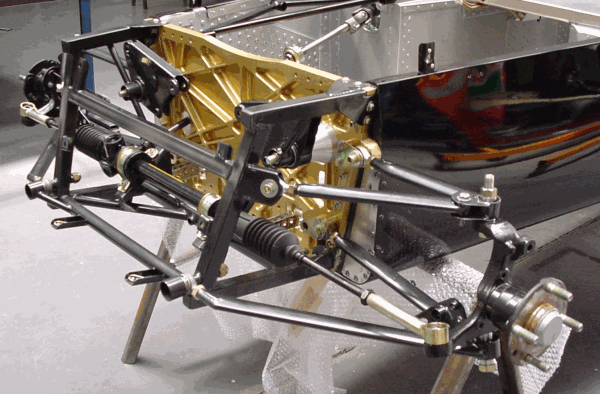 Why choose the composite
Traditional clubman are based on Colin Chapman's 1950's clubman design. This lightweight minimalist design delivered outstanding performance in its day with the cars becoming motorsport favourites. Modern engines and tyre technology have advanced considerably since the 1950's and really stretch the capabilities of the original design. While the original tube-frame design will satisfy drivers looking for traditional performance, there are many drivers who are now in pursuit of the "ultimate" clubman experience.
How does 0-100km/h in 3.8 seconds with up to 2G's of braking sound. The PRB composite's performance exceeds that of all but the most exotic of street legal cars.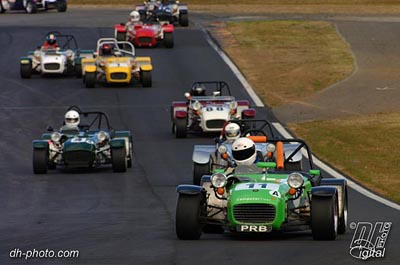 PRB clubman have been raced in all fields of motorsport throughout the last 25 years. PRB Australia has worked closely with racers continuously improving the design and therefore performance of the cars. This pursuit of excellence has seen the PRB clubman clearly recognised as Australia's most capable clubman. If you want to win on the racetrack you pretty much have to race a PRB. Look at clubman lap times at any racetrack and the PRB's are invariable the quickest clubman.
Composite models
The PRB composite roadster is built for drivers looking for the ultimate road driving experience. Supplied standard with full road trim and wet weather gear the roadster is well suited to daily driving, weekends away, road rallies, and club motorsport. Simple adjustment of the dampers and tyre pressures is all that his required to transform the roadster into the most capable club racer.
The PRB composite circuit racer is ready for the racetrack and designed specifically for motorsport use. Road trim is replaced with race trim. Unnecessary items are left out in order to reduce both the weight and cost. Included standard is a limited slip differential and race spec suspension.
Either package can be upgraded with factory options including lightweight carbon/kevlar panels, high output engines, 6 speed sequential gearbox or Motec digital instrumentation.

PRB AUSTRALIA PTY LTD

ACN 49 079 187 670

HOME OF THE PRB CLUBMAN

8/31 Wentworth St, Greenacre NSW 2190

ph/fax: +61-2-9742 5652

www.prbaustralia.com.au

Pictures in this brochure are for illustrative purposes and may show equipment not suitable for road registration.
Specifications table

Monocoque
Aluminium clad monocoque constructed from 1" Aluminium honeycomb composite, epoxy glued and riveted with milled aluminium front bulkhead.

CAMS approved roll cage

Front suspension
Aero tube double wishbone suspension with inboard rocker operated spring/damper units. Adjustable for camber, caster, toe-in and roll centres. Fully rose jointed with stainless steel or chrome-moly teflon lined aircraft grade bearings. Adjustable inboard roll bar. Quick action 2.25 turn steering rack. AVO adjustable dampers
Rear suspension
Aero tube double wishbone independent suspension. Adjustable camber, caster, toe-in and roll centres. Fully rose jointed with stainless steel or chrome-moly teflon lined aircraft grade bearings. Adjustable inboard roll bar. AVO adjustable dampers
Brakes
Four wheel disc brakes. Vented front discs.

Adjustable pedal box with bias bar adjustment

Bodywork
Lightweight kevlar/fibreglass nose, scuttle, front and rear guards, rear diffuser, boot cover. Carbon fibre instrument panel. Aluminium bonnet.

Optional: carbon fibre panels throughout

Instrumentation
Classic round instruments. Speedometer, tachometer, water temp, oil pressure, fuel level and voltage.

Optional: Motec digital dashboard with lap beacon

Engine
160hp Toyota 4A-GE 20 valve 1600cc engine.

Optional: 200hp and 225hp race only engines.

Transmission
5 speed Ford type 9 gearbox

Optional: 5 speed close ratio synchro or dog engagement

6 speed sequential shift ultra close ratio dog engagement
Factory options

High output engine

200hp

Race prepared 20-valve engine. Blue printed bottom end. Fully race ported head with high lift/duration camshafts. Capacity 1600cc.
High output engine

225hp

Race prepared 20-valve engine. Full race bottom end stroked and bored to 1800cc. Forged pistons, race con-rods. Fully balanced and blue printed. Fully race ported head with high lift/duration camshafts. Capacity 1800cc
5 speed close ratio gearbox
Close ratio 5-speed gearbox with straight cut or helical gears. Available in H pattern shift with synchro or dog engagement hubs.
6 speed sequential close ratio gearbox
Quaife 6-speed close ratio gearbox. Straight cut gears utilising face-dog engagement hubs.
Motec Dashboard
Motec digital dashboard. Bar graph tachometer, gear detection, speedometer, odometer and programmable warning system. Includes data logging and analysis software. User programmable for an extensive range of functions. Can be upgraded with lap timing beacon and car to pits telemetry

Koni dampers
Koni double adjustable (bump and rebound) dampers

Allows for precise tuning of dampers to suit circuit conditions and driving style.

Supplied with EIBACH race springs.
Model comparison

Roadster model

Circuit racer model

Bodywork and fittings
Road trim bodywork with

laminated windscreen
demister
3 wipers
3 mirrors
Headlights, indicators, reversing lights, rear clusters, numberplate frame light
Bootlining
CAMS approved rollcage with optional front brace

Race trim bodywork with

low profile wind deflector
3 race mirrors
headlights, indicators and rear light clusters
CAMS approved rollcage with front brace
Rear air diffuser

Interior

Leather trimmed seats
interior trim
floor mats
retractable seatbelts (2)
Tonneau, hood, sidescreens, headrests

Race bucket seat (driver only)
6 point race harness (driver only)
Tonneau and drivers headrest

Instruments
Classic VDO round instruments

Tachometer
Electronic Speedometer
water temp
oil pressure
fuel level
voltage

Classic VDO round instruments

Tachometer
water temp
oil pressure
fuel level

Suspension
Road tuned suspension with AVO adjustable shock absorbers
Race tuned suspension with AVO adjustable shock absorbers (Koni double adjustable dampers optional)
Engine/Gearbox

Toyota 4A-20 valve 160hp twin cam 1600cc
Ford type 9 – 5 speed gearbox
ADR approved exhaust – 4:1 stainless headers, catalytic convertor, muffler, headshield and tailpipe

Toyota 4A-20 valve 160hp twin cam 1600cc
Ford type 9 – 5 speed gearbox
Mazda Viscous limited slip differential
Heavy duty clutch and lightened flywheel
Race exhaust. 4:1 stainless headers with 2.25" side exit muffler

Brakes
Four wheel disc brakes. Ventilated front discs. ADR approved stainless steel braided brake lines
Four wheel disc brakes. Ventilated front discs. ADR approved stainless steel braided brake lines.

Heavy duty carbon metallic brake pads.

Wheels and tyres
Five (5) 14x6" superlight wheels with Yokohama A032-R 185/60 HR14 tyres
Four (4) 13x8" superlight wheels with Avon ACB10 225/45/13 tyres