40 Years of PRB
at the 2018 Tasman Revival
PRB celebrates 40 years of producing Australia's favourite clubman sports car at
Sydney Motorsport Park December 1st and 2nd
<![if !vml]>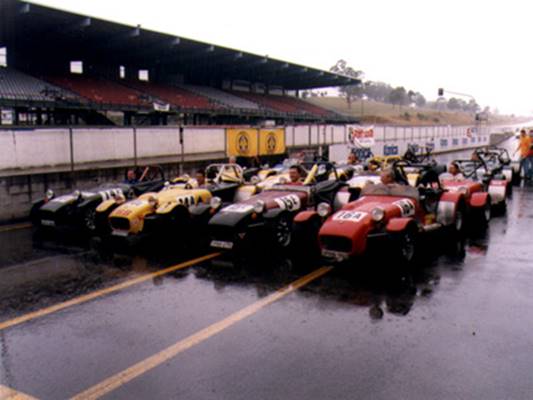 <![endif]>
PRB Highlights at Sydney Motor Sports Park
1995 -12  Hour Production Car Race – 1st in Class, 10th Outright
1996 -Six Hour Relay Race – 1st Outright
1997 - Six Hour Relay Race – 2nd & 3rd Outright
1998 - Six Hour Relay Race – 2nd, 3rd & 4th Outright
1999 - Six Hour Relay Race – 4th, 7th & 9th Outright
2000 - Six Hour Relay Race – 1st Outright
2001 - Six Hour Relay Race – 1st & 2nd Outright
The HSRCA Tasman Revival is one of the great historic racing events of the year. Look forward to a full weekend of great historic racing cars and memories made even better by the chance to catch up with Peter Bladwell and many past and present PRB buddies.
PRB celebrations at the 2018 Tasman Revival will include;
<![if !supportLists]>· <![endif]>Two day Supersprint
<![if !supportLists]>· <![endif]>Regularity
<![if !supportLists]>· <![endif]>PRB display area in the pits - Saturday
<![if !supportLists]>· <![endif]>Six PRB's on display adjacent to the dummy grid - Saturday and Sunday
<![if !supportLists]>· <![endif]>Lunch time PRB display laps - Sunday (programme permitting)
Supersprint
Already, six PRBs have confirmed entries for the Supersprint - Malcolm Lee and Kane Cruse will make the journey from Tasmania (what Enthusiasm!) while PRB Race Series regulars John Moyes, Ivan Srejber and Chris Barry and  supersprinter/hillclimber, Paul Finch have also entered. All past and present competitors are encouraged and welcome to enter.
The likely format will be one qualifying session to establish lap times followed by four six lap sprints.
Regularity
You can also enter regularity instead of the Supersprint. This event requires consistent lap times and is harder than you think - timing devices are not allowed for this event. There is a (low) limit to to lap times, so outright speed is not required.
You could even enter both events if you are looking for a busy weekend!
Display Laps
No helmets will be required for the display laps
More Information
If you need any more information on "Forty Years of PRB" or help to organize an entry for the speed events, please contact Peter Bladwell on 0467 671 044
IMPORTANT
This site is now maintained by PRB(NSW). The information within this site may not be entirely accurate or up to date and therefore should not be used as an accurate technical specification of the products of services provided by PRB Australia. Please refer to important information for more details.