PRB Widebody
IMPORTANT - WIDEBODY DELIVERIES
PRB Australia has currently closed the Widebody Order Book, and is currently not constructing kits.
Background
Late in 2005, PRB was offering 2 distinct models - the PRB "Composite" and the PRB "Birkin S3". The former car was fully constructed in the PRB Greenacre factory, and was generally recognised as the most sophisticated clubman vehicle in the country (see separate link on this website). Complex production techniques needed meant that there was a 2-year waiting list for a Composite car, which for many buyers was just too long.
The Birkin S3 came from South Africa, with PRB providing many local parts, and was available on a much shorter delivery cycle; as such, it outsold the Composite about 5 to 1.
Both cars closely followed the dimensions of earlier Lotus 7 replicas, meaning that quite a high proportion of potential owners found them cramped. PRB recognised the need for a larger car, but with none in sight from Birkin Peter Bladwell decided to design and build a new larger model himself, hence the Widebody (imaginative name, is it not?). And here is a finished car!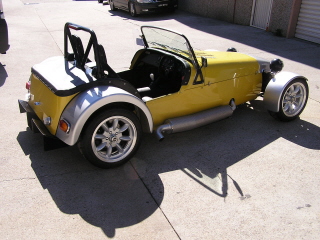 Features of the PRB Widebody
All of PRBs 25-plus years of history in building great clubbies, and especially the lessons learned, have been put into our new car. Peter Bladwell wanted to produce a car that everyone could fit in comfortably, and drive in a relaxed fashion.So what is important?
People of any size can fit in the car - deign is over 2" wider than earlier models
The classic shape is not compromised - at the front it looks just the same as earlier cars (and in fact uses the same nosecone)
The use of a computer-designed traditional spaceframe chassis is complemented by aluminium composite (honeycomb) material which provided additional strength and safety in the passenger compartment
The car uses proven, high-strength components from road-cars; for example, steel uprights from Mazda and Subaru which have been proven in cars up to 3 times the Widebodys weight
Other suspension components such as wishbones have been designed to utilise the cars width, to provide the best possible handling
The car is "racetrack-ready", with standard features including a CAMS rollbar, Quik Rack, a bias-adjustable Tilton pedal box, and a fully adjustable front-end (incl caster); in addition, aircraft-quality spherical joints are used throughout
Parts eg Subaru differential, or Mazda front brakes, can be purchased either new or secondhand, depending on the buyers preference; options such as different fiff ratios are easily obtained
A rear diffuser is fitted to improve the airflow and handing (in addition to looking great)
Two modern engines are supported

The 2-litre Mazda Duratec, which provides excellent torque at town speeds, for the most comfortable driving experience. Yet the Duratec is easily modified to achieve up to 280bhp
The Honda S2000 motor/6-speed box, a high horsepower (245bhp) standard engine giving supercar performance straight out of the box
The photo above shows the widebody stance of the new PRB, and the rear diffuser
The Widebody is available in kit form, with a fully-clad chassis and all panels; in addition, the base kit has the fuel tank installed, and the pedal box, the steering rack and steering column also in place. Or if you prefer PRB agents can assist with part or all of the assembly process.
The final photo shows one of the trim options, please check the order form on this site for what is available and what is coming.
Specifications table

Construction
Aluminium clad steel spaceframe, chassis powdercoated, use of aluminium composite material to strengthen chassis.

CAMS approved roll cage

Front suspension

Aero tube double wishbone suspension with outboard spring/damper units. Adjustable for camber, caster, toe-in and roll centres. Fully rose jointed with stainless steel or chrome-moly teflon lined aircraft grade bearings. Adjustable inboard roll bar. Quick action 2.25 turn steering rack. AVO adjustable dampers

Mazda MX5 uprights and brakes, or optional 4-pot outlaw calipers

Rear suspension

Aero tube double wishbone independent suspension. Adjustable camber, toe-in and roll centres. Fully rose jointed with stainless steel or chrome-moly teflon lined aircraft grade bearings. AVO adjustable dampers

Subaru differential, uprights and brakes

Brakes
Four wheel disc brakes. Vented front discs.

Tilton pedal box with bias bar adjustment

Bodywork
Lightweight kevlar/fibreglass nose, scuttle, front and rear guards, rear diffuser. Aluminium bonnet.

Future option: carbon fibre panels throughout

Instrumentation
Mazda Duratec engine - classic round instruments. Speedometer, tachometer, water temp, oil pressure, fuel level and voltage.

Honda S2000 engine - cutout for S2000 instrument cluster plus classic round instruments , oil pressure and water temp

Optional: Motec digital dashboard with lap beacon

Engines
Mazda Duratec 2000cc with standard ECU 140bhp

Honda S2000 with standard ECU 245bhp

Transmission
Duratec engine - 5 speed Ford Type 9 gearbox

synchro

Honda engine - Honda S2000 6-speed close ratio synchro
Factory options

Motec Dashboard

(Race cars only)

Motec digital dashboard. Bar graph tachometer, gear detection, speedometer, odometer and programmable warning system. Includes data logging and analysis software. User programmable for an extensive range of functions. Can be upgraded with lap timing beacon and car to pits telemetry

Koni dampers
Koni double adjustable (bump and rebound) dampers

Allows for precise tuning of dampers to suit circuit conditions and driving style.

Supplied with EIBACH race springs.
Model comparison

Widebody Roadster model

Widebody Circuit racer model

Bodywork and fittings
Road trim bodywork with

laminated windscreen with electrical demisting
3 wipers
3 mirrors
Headlights, indicators, reversing lights, rear clusters, numberplate frame light
CAMS approved rollcage with optional front brace

Race trim bodywork with

low profile wind deflector
3 race mirrors
headlights, indicators and rear light clusters
CAMS approved rollcage with front brace
Rear air diffuser

Interior

Leather or vinyl trimmed seats
Fibreglass transmission tunnel
retractable seatbelts (2)
Tonneau, hood, sidescreens, headrests available

Race bucket seat (driver only)
Fibreglass transmission tunnel
6 point race harness (driver only)
Tonneau and drivers headrest

Suspension
Road tuned suspension with AVO adjustable shock absorbers
Race tuned suspension with AVO adjustable shock absorbers (Koni double adjustable dampers optional)
Engine/Gearbox

Mazda Duratec twin cam 2000cc with Ford Type 9 5-speed gearbox. Standard ECU.
Honda S2000 with 6-speed gearbox, standard ECU
ADR approved exhaust – 4:2:1 stainless headers, catalytic convertor, muffler, headshield and tailpipe

Mazda Duratec twin cam 2000cc with Ford Type 9 5-speed gearbox. Motec ECU optional
Honda S2000 with 6-speed gearbox
Subaru WRX limited slip differential
Heavy duty clutch and lightened flywheel
Race exhaust. 4:2:1 stainless headers with 2.25" side exit muffler

Brakes
Four wheel disc brakes. Ventilated front discs. ADR approved stainless steel braided brake lines
Four wheel disc brakes. Ventilated front discs. ADR approved stainless steel braided brake lines.

Heavy duty carbon metallic brake pads.

Wheels and tyres
Four (4) 15x7" superlight wheels with Yokohama "R" tyres
Four (4) 13x8" superlight wheels with Avon ACB10 225/45/13 tyres